Chris Philpott's French Postcards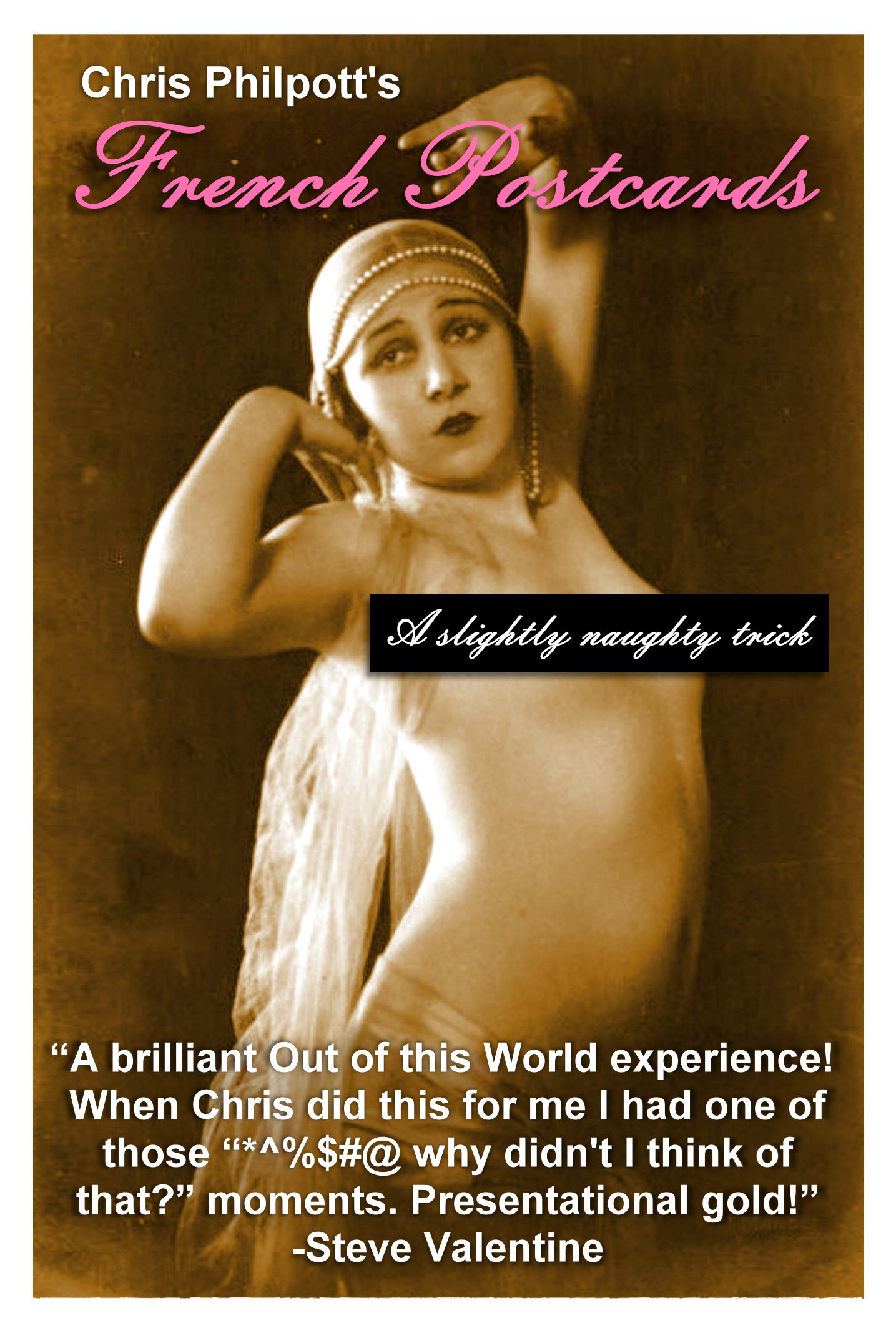 Chris Philpott's French Postcards is a wildly entertaining version of Paul Curry's Out of this World.
A study out of Cornell University recently made headlines: subjects could predict if a picture was going to appear on the left or right side of a computer screen but only when they used erotic pictures!
To test the theory, you show 12 postcards from various destinations and 12 French postcards (these are vintage nudes -- elegant, sepia-toned, upper-body nudity). The cards are mixed; then, without looking, a spectator sorts them by sensing if a card has sexual energy or not. The results are perfect!
The effect includes 24 custom-made postcards, written instructions and links to video instructions, updates, extra effects and a bonus comedy script by professional comic and magician, Bruce Gold. Also includes Jon Armstrong's "Out of this Blah Blah Blah," the cleanest OOTW handling ever!

"Finally, a reason to do Out of this World, that holds attention from start to finish. With French Postcards, they'll never forget you!"
-Steve Valentine
"Love these! What a fun, creative spin on a classic!"
- Charlie Frye
"Chris Philpott's French Postcards is the best presentation of Out of this World I have ever seen, and the most "magic for the buck" I have ever purchased!"
- Bob Meigs
(Five Stars) "This is a wonderful update to the classic Paul Curry plot, Out of This World. I very highly recommend this product!"
- Dr. J. M. Ayala de Cedoz, My Lovely Assistant
"Great, great, great reimagining of Out of This World! I love this routine!"
- Andy Hofer
"With French Postcards, Chris tells a compelling story in just a few sentences. Once interest has been generated, he then puts the participant INTO the tale. This is a brilliant combination and, along with being a retelling of a classic, is why the effect garners such strong reactions."
- Bill Cushman
"French Postcards has a great hook, a justification, a clever prop, and an intriguing involvement of the spectator."
- Simon Aronson
"It looked to me just how the real thing it might look and that's not something I see that often."
- Sean Giles
"I've just used French Postcards at a gig tonight during that "show us something different moment". WOW what great reactions! Can't thank you enough!"
- Graham Lowery
"They're friggin fantastic! It takes an amazing effect with a boring premise, flips it, makes it interesting and can engage a lot more people. An incredible effect!"
- Mystery Arts Inc.
"What a practical and brilliant idea to elevate a great effect even higher."
- Tom Jorgenson
"The best version of the best card effect ever!"
- Rob Maron
NEW! Already have French Postcards? Now there's a special add-on deck you can get -- click here for more...
©Chris Philpott
,
2013-2019. All rights reserved. Original designs and content by Kathleen Breedyk and Chris Philpott.
Contact Us
.