Steve Valentine: his magic, his mentors and his rediscovery of the real secrets of magic
by Chris Philpott (published in Magic Magazine February 2014).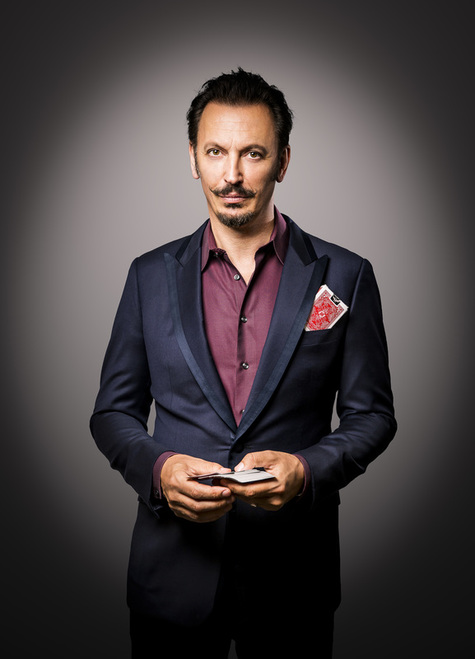 I'm watching Steve Valentine give a lecture to the junior members of the Magic Castle in Los Angeles. He's funny, charming and incredibly informative – he peppers the lecture with references to great magicians of the past: Cy Endfield, Nate Leipzig, Ross Bertram, Paul Rosini, Stanley Collins and many more. It's wonderful to see these kids, some of the best and brightest of the generation raised on Dan and Dave and one-trick DVDs, getting absolutely fried by 80-year old moves.
I'm sitting at the back of the room with Joan Lawton, a trustee of the Academy of Magical Arts and someone who's been involved with the Castle since the beginning. She whispers to me, "I wonder what the old guys would have thought about Steve, guys like Vernon, Carlyle, Charlie Miller and Jay Ose. I think they would have been blown away."
"Why do you think that?"
"Because Steve's the real deal. He's got the skills but he's also a great entertainer."
After destroying the juniors with a Chan Canasta effect, Steve smiles broadly and asks "Does anyone know how that was done?"
There was a long silence before someone speaks up.
"You're God?"
****
To magicians, Steve Valentine is probably best known as a two-time Magic Castle close up magician of the year and creator of such wonderful effects as Booked and 3. Outside our community, he's known as an actor who has starred in such series as Crossing Jordan and I'm in the Band, recurring roles on NCIS and Anger Management and guest star roles too numerous to list (though did you see his freaky forked tongue on Supernatural a few months back? Ew!) At the Magic Live parties this summer, Steve was one of the few people that both magicians and their long-suffering wives wanted to meet. And from what I could see, Steve had time for them all.
I should mention (if it's not obvious already) that Steve and I are friends – I've read many of his scripts (he is a terrific screenwriter) and our families get together from time to time (he is married to actress Inna Korobkina and they have a ridiculously cute two-year old daughter, Evie). Steve is one of the few people I share my new magic ideas with – he has the knack of being supportive while at the same time turning an idea on its head to make it more dramatic and entertaining.
Steve is currently putting together his first close up act since his award-winning routine of the late-nineties and this offers a special chance to catch a glimpse of his work, thought and methods in the midst of a creative fervor. The new routine will retain many qualities of his first act – the speed, wit, charm and mind-warping magic – but it will also have a new sense of flow and unity – it all builds to his final showpiece effect, "The Cards to Pocket". In many ways, this wonderful routine is a culmination of Steve's career to now.
Steve was born in Scotland and raised in Southend-on-Sea, a working-class neighborhood near London. "My dad was a dockyard worker and when my parents decided to have a second kid they had twins: my brother and I. Suddenly, he's supporting three kids. So he put himself through night school – I always respected the tenacity of the man – and ended up getting a job at Lloyds in London." (For more of his biography, check out "Steve Valentine in his Words" in the Dec, 2007 issue of Magic).
When Steve was ten, something happened that would alter the course of his magic career. The movie Magic starring Anthony Hopkins had just come out and an enterprising theater owner decided to have a magic competition. "The prize was free tickets to see the movie and this little cup, best magician of Southend or whatever it was. I did some multiplying billiard balls and the zombie floating ball." Despite being the only child in the competition (or, Steve adds, maybe because of it) he ended up winning. "But I was so young I couldn't see the movie so it made a nice ironic article in the newspaper. Well, one of the guys who was competing said to me, 'You have great chops, kid. Why don't you come to a meeting of our magic club? We don't allow kids but we'll make an exception for you.'"
The club was the South-End Sorcerers' Society and it featured members such as Harry Baron, Jimmy Rogers, Terry Machin, Simon Lovell and Brian Oaks. The meetings were held in a room above a pub. "My Dad would take me. He'd stay in the bar downstairs have some beers and I would go into the meeting on my own." Steve recalls those meetings vividly. "The smell of the cigarettes. The mustiness of the room. The politics between all the magicians in this little club: 'Oh I'm sick of him because he thinks he runs the place…' You can't imagine what it was like. Walking in and seeing all these people, my people, magicians, everywhere."
Some of the magicians were very skilled, guys like Dick Turpin, who first showed Steve the "Cards to Pocket". But even the lesser talents left an indelible mark: "There was one guy, every single time he did a trick it would go wrong. He'd always start off so confidently and then h-h-he'd start to st-st-stutter and it would go wrong and walk off embarrassed. But this guy loved magic and mentalism so much. He lent me the full set of Tarbell. He lent me his entire collection of Gen magazines which now I have on pdf. And I remember the smell of the magazines and the smell of the Tarbell books…"
And so began Steve's love of classic magic and old magic books.
****
"He was an unusually skillful sleight of hand artist, but it was not sleight of hand artistry that he sold to audiences. He had mastered a greater art—-that of blending dexterity and psychology with a priceless ingredient that was his by birthright—-PERSONALITY-—and the result was always entertainment—unalloyed, unadulterated entertainment."
That quote about Paul Rosini (from Rufus and Braun's Rosini's Magical Gems) could apply equally well to Steve Valentine. Rosini was one of the masters of the Golden Era of magic and Steve is a huge fan: "Magicians loved him and audiences loved him. He was the top commercial nightclub act of his time. I'm especially fascinated by him because it's rare that you get someone who the public loves as much as magicians love. A commercial magician is usually not as respected by the cognoscenti. They love the doer of moves and the guys who are deep into the theory and less for someone who gets great response from the crowds with an invisible deck for example."
I confess to Steve that I know very little about Rosini, but this scenario is familiar to me from my knowledge of film history: so-called "serious" filmmakers like Bergman and Fellini are quick to get praise while the comics and entertainers Keaton and Hawks are only recognized as artists years later. I add, "I think of you as an artist – I don't know if you think about yourself that way."
Steve looks a little uncomfortable. "I don't think of myself as an artist. Obviously I want the routines I do to be the best they can be. And I want them to be me. But I think if you think of yourself as an artist that's a dangerous place. I think that's where pretention comes from."
I was a bit surprised by Steve's answer, though it is definitely of a piece with the down-to-earth quality that makes him a breath of fresh air here in Hollywood's ego high-pressure zone. I should add that Steve got more comfortable with the term artist over the course of hours of interviews over several weeks (so if he suddenly develops into a pretentious a-hole, you know who to blame).
"It seems really important to you to get a commercial presentation. The spectator always seems to be foremost in your mind."
"Absolutely. They have to be. If you're a performer and they're not, then you're doing something wrong. You shouldn't be performing. Why are you performing magic? That is the most important question you can ask yourself."
"So how do you answer that yourself?"
Steve answers without hesitation: "I want to entertain people."
****
Steve says the word "entertainment," the way characters in old MGM musicals do, with a hint of reverence. To Steve, entertainment is not something to be taken lightly: it requires a lifetime commitment and his biography bears that out. He began training as a dancer and actor at age 7 and had his Actor's Equity card at 15. At 17 he started performing in Butlins, a holiday camp, "like in Dirty Dancing". At 18 he worked as DJ, magician and all-around entertainer for British tourists in Yugoslavia on the eve of war. He's "travelled around the world a few times" working the cruise ships. He's performed at rough "Working Men's Clubs" where there was chicken wire in front of the stage to protect the performers, and at private parties in the mansions of Beverly Hills. "That life experience is so valuable as a performer, to understand people."
Throughout it all, Steve has tried to live his life with "a foot on each path", pursuing a career in both magic and acting, but there was period where he felt he had to abandon that goal. "I was at an audition and the producer said, 'Didn't you do magic at my kid's bar mitzvah?'" After a few more incidents like that, Steve decided he had to give up magic to further his acting career. He gave it up hard. For almost ten years, he never performed any magic, not even for friends. If anyone asked if he did magic, he would deny it. And though he lived in LA the whole time, he never set foot in the Magic Castle.
The Castle had been important for Steve: not only had it established his magic career with two close up prizes (the maximum allowed), it was one of the first places that had welcomed him when he first arrived in LA as a young wannabe actor: "The first apartment complex I went to was run by an English couple and they asked, 'Do you have a job?' 'No.' 'Do you have credit?' 'What's that?' I was so naïve. Then I said, 'There's a place in California called the Magic Castle, do you know where it is?' They stepped out the front door and pointed at it! It was a complete fluke! Being young and arrogant I just burst through the front door and said 'Who do I talk to about working here?' Billy McComb happened to be there, chatting up the girls at the front desk and I said, 'Oh you're Billy McComb – I love your articles in Magigram'. And he said, 'Welcome to the Magic Castle, dear boy! Let me show you around.' And he gave me the tour – I'll never forget it. Made me immediately feel welcome. It was so beautiful." Billy became another of Steve's mentors: "he was a great inventor but also he really understood commercial magic. He knew how to make magic work for a regular audience."
Steve describes his decision to leave the magic world "a Sophie's Choice". Then in 2008, shortly after both his break-out series Crossing Jordan and his first marriage had ended, Steve decided to go back. "Tell me about the first time you went back to the Castle."
"I thought there'd be a lot of people who knew me and are they going to be like, 'Oh you're too big for us'. Or it's going to be a brand new bunch and no one's going to recognize me and I'm not going to know anybody. So there I was at the bar and everyone was so happy to see me and came up and shook my hand and gave me a hug and it was like they were proud of my success. There was this immediate welcoming, like I hadn't been gone. It was lovely. That's when I realized what a special place it was."
****
Since coming back, Steve has thrown himself into magic with renewed vigor. "I discovered that even though I had put it aside, my subconscious had been working on magic. So when I picked up my old tricks my subconscious was suggesting fixes for problems I had back then."
One of the biggest changes Steve found in magic in the time he was away was that research is now so much easier: most of the old books and magazines he enjoyed at the South-End Sorcerers Society, and many more, are now available for instant download. "I'm kind of falling in love with it all over again. And I want an audience to fall in love with it."
"Why do the old books appeal to you?"
"We don't have places to be bad anymore. The people who did were about the turn of the century, people who worked vaudeville, people who worked in the so-called "Golden Age", so their experiences, their camaraderie, and doing 8 shows a day means that they were able to refine material to a far greater degree than we can today. In some respects magic was more advanced back then."
"Because they knew what actually worked, what didn't work…"
"What got them cheering… Leipzig used to do this thing where he'd hold the cards an inch away from somebody's face and say, "Everything look okay?" That's a really funny bit of business. And it's disarming. Anything you can do to take away the perceived pretention of being a magician is fantastic."
"But beyond practical reasons, why look to the past?"
"Because I think there's an art to it that is in danger of getting lost. I think there's no point in doing the new material because everyone is doing the same new material. And that's how it's always been. If you look back at the history of magic everyone was doing an egg bag, everyone was doing a zombie in the eighties, everybody was doing the dancing cane."
"Oh, I remember."
"Christ, everybody… My postman was doing the dancing cane. You can't go forward so you have to go back. And there is such an amazing, vast spectrum of magic and method and effect that we're not even aware of. This generation of magicians doesn't read so much. It's kind of a good thing in a way because I feel the real secrets of magic are going back to being secret. Because we have single trick DVDs magicians are just learning those tricks and the real magic that's in books like Sleight of Hand and Expert Card Technique, The Hofsinzer stuff and all the Hugard stuff, all those secrets no one's reading, which means there's a great glut of material waiting to be discovered."
****
Which brings us to "Cards to Pocket". Also known as "Cards up the Sleeve", "Cards to Pocket" was once ubiquitous but now almost vanished from the popular repertoire. It is not the same as just sending a card or two to your pocket or your wallet – in "Cards to Pocket" you send ten cards to your pocket one after another.
Steve bubbles with enthusiasm every time he talks about it. "To me 'Cards to Pocket' is a fantastic trick. I mean there's a reason it's a classic and we shouldn't lose it."

"There's something virtuosic about it, isn't there?" I say. "The repetition. It's like, 'Fool me once, shame on you, fool me twice, shame on me, fool me ten times in a row with the same thing…'"
"And it's time for a beer," says Steve laughing.
"Cards to Pocket" is a showpiece – it's not merely his new closer, Steve builds the entire act around it. Really strong effects like Eddie Joseph's "Premonition" and "Get Sharkey" establish the premise and set the audience up for the kill. The level of work and thought that Steve has put into it is truly impressive.
I began by asking Steve if there was a particular routine that had inspired him – he said without hesitation it was Dick Turpin's routine (you can see Turpin do his routine in the online version of Magic). Turpin, a member of The Southend Sorcerers Society and one of Steve's earliest mentors, was a street busker in London.
As Steve and I watched Turpin's routine, I have to confess I was a little underwhelmed. I mean, the guy has some serious skills, but overall it is a very workmanlike routine – the presentation is straightforward, there is not a lot of humor, embellishments or drama.
"That's because he's a street performer," says Steve. "He's got to get to the tricks. He doesn't have time for anything else. He performed in some of the worst situations you could ever perform in. He was the guy whom I learned misdirection from. Maybe he'd done a trick at the magic club ten times in a row, but you'd never catch it because his misdirection was always so good."
"What was it about this routine that captured your imagination?"
"There were a number of things. For one, it relied on pure skill. If you want to learn palming and misdirection, this is the routine to study. There's no other trick I can think of where the method of the trick is literally the method the audience thinks you must be doing but they can't catch you doing it."

"Not to that degree."
"Not to that degree. You live and die by your skill. And watching Dick perform this and always get a huge round of applause for it inspired me as a performer. Because it was fast, it was to the point, it was very street."
Now I'm starting to get it. Skill and speed are both very important to Steve. He practices constantly (often while stuck in LA traffic on the way to auditions) and gravitates toward routines with lots of effects performed very quickly. This is a conscious part of his strategy: "In a boxing match, if a guy threw a punch every 3 or 4 minutes, you can recover. Now look at the match where the bell rings and the guy just fucking attacks. And it's left, right, left, right – you get your breath for a second and he comes in for a ripper." This is the way Steve wants to approach his audience. "In the opening to my close up act I have three very fast visual effects one after the other that kind of say 'Here I am!' Nobody has to pick a card. It's just Bam! Bam! Bam! You want to beat your audience up with magic. I like them to leave bruised, shaking their heads and bruised – emotionally, physically, maybe even egotistically. In the end they just have to give up and accept what you're doing is magic."
After deciding to tackle "Card to Pocket" Steve went through his large collection of e-books and magazines searching for everything he could find on "Cards up the Sleeve" or "Cards to Pocket". "I put it into a giant file almost two gigs thick – about 250 pages of routines. By investigating an effect I can find all kinds of wonderful twists and turns that have been lost in the archives of magic that are going to stay lost especially because of the glut of one-trick DVDs. There are two routines in The Art of Magic by T Nelson Downs; there are a couple routines from Robert Houdin's book. I got routines from The Gen and The Magic Wand and these little books that I found. They all had these great little moments. I found this amazing thing in a single paragraph in Hugard's Magic Monthly, an extra finish for cards to pocket: at the end of the trick he says something along the lines of, 'by the way, you don't just have to use your left sleeve' and Bam! Suddenly all the cards have disappeared and he's got and there in his top pocket, his back pocket, in his socks, one's in his shoe… They've shattered all over his body!"

"Wow."
"I thought, 'This is a great idea! How do I do it with signed cards?' And I figured it out."

"Really?"
"Yeah! So I have a ten signed-card to pocket routine and at the very end of it they suddenly shatter to all over my body and I pull them out and I give one to the guy who signed them to keep as a souvenir and the rest of them I throw out into the audience, so it's kind of a great finish. So that moment, that shattering to all the pockets, never would have happened if I hadn't found that paragraph. Never would have happened."
Steve develops a routine with a combination of lots of research, lots of ideas and lots of performance to test the material. At this stage, he has not tested his material so some of these ideas may not remain in the final routine, but they are worth mentioning to show how wide he is willing to cast his net to get an reaction from his audience.
"I've got a version that involves the sleeves getting clogged at one point, and having to pull a bunch of stuff out of my sleeve like a rubber dove, a candle, a glass of water… I say, 'Okay I think I'm clear now,' then use the old match bit where you blow in one sleeve and the match goes out in the other hand. Then blowing smoke in one sleeve and having it come out the other sleeve. And then expanding on that idea, when I pull the card out of my fly, a little puff of smoke comes out of my fly. It has been a nightmare. The technology did not exist. This new one Vapr, I've just ordered and I'm hoping it fits the bill." (Update: it does). Steve recognizes this as a great moment for a one-liner – he's just not sure what it will be. "Maybe 'Smoke gets in your fly' or 'I've got to get my prostrate seen.'"

"I like that one! You have a little of the old British Music Hall in you, don't you?"
"I did old time Music Hall!"
One of the challenges of a routine where the same thing happens ten times in a row is keeping it fresh – as with a theme and variations, the piece lives or dies by pushing it as far as the concept will allow without breaking it. It must always feel logical and organic. "I'm going to go by the magic shop this afternoon to get something for a bit I'd like to try, where when they hold your wrist, they feel the card go by. There's an old Dunninger thing where you hold a piece of rope, they hold one end and you hold the other and there's a plate lifter thing – you squeeze it and they feel it. I feel as though as long as I've got a smoke gimmick on one sleeve I might as well have a couple of plate lifters on the other sleeve so they can actually feel it. My theory is that if I get the right person, a girl, she'll scream. We'll see…"
There are a lot of practical concerns with a routine this complicated, such as how to maximize the miraculous of it (by having the cards signed) while keeping up the pace. For this reason, Steve has someone sign the cards before the show. "This enables me to make sure he signs them correctly, keep them in order with a rubber band around them and it enables me to force the ten cards. I actually just hand him ten cards and say sign them. But in my patter, I say 'Is it right that before the show I asked you to grab a bunch of cards and sign them?' So by using the double meaning that I learned from mentalism and preshow work, now it looks like he's chosen ten cards at random, but they're not at random. So I'm able to miscall the cards, which is a Ramsey idea. In his 'Card to Pocket' he miscalls but he also memorizes them as he goes. I don't want to spend the time memorizing a sequence of cards."
An advantage of learning so many methods for one routine is that Steve can work out two routines – a full stage version and an impromptu version. This is something he does with almost all his effects, so he will never be caught unprepared if someone asks him to do a certain trick. He also likes to learn different versions for many of the moments in a routine which can be switched in or out depending on considerations such as angles. "It becomes a kind of jazz magic."

One of the things that intrigues me most about Steve's "Cards to Pocket" is its structure which shows the influence of his years in film and TV and his work as a screenwriter. I tell him, "To me, this routine seems like a story. As with all stories, in the first act, you're setting up a problem. You can build amazing things out of very simple desires. You begin by saying you want to get the cards to go up your sleeve."
"Right. So I added something I don't think I've seen anybody do – I snap the cards up the sleeve and add a couple of flourishes where I shoot a single card out of the packet as I say I'm showing you how it works half-speed. I always drop the third one. Now I've got three cards in my right hand, and I drop them on top of the pack outjogged and as I tap them back into the pack and palm them into my right hand I look up to the audience and say, 'It's so hard to do unless you're doing it full speed.' People understand that. I now have three cards palmed in my right hand and everyone's still focused on seeing the cards snap out of the packet in my left hand. And the first three cards just go up to the armpit, not the pocket."
"That's your first act."

"Right. The next bunch of cards go to the pocket, then the last few are the big finale where they're jumping all over the place, they're shrinking, they're growing and then they end up in the guy's pocket."

This is a classic screenwriting three-act structure: set up, development and then a third act where everything's blowing up and spinning out of control before the final resolution. Steve's read a lot of the popular screenwriting books such as Save the Cat and McKee's Story. "I never scripted anything until I came back to magic. Now I've really started looking at the beginning the middle and the end and part of that is that I'm writing now as well. In my old close up show which I still love and still do, I came out and said, 'Do you guys want to see some magic?' This is more story-oriented."
****
Before our last evening of interviews, I went back and watched Dick Turpin's "Card to Pocket" routine again and also listened to Steve's comments as we first watched the routine: 'He's a little bit nervous which is really sweet.' 'It's just lovely.' 'He's so cute.' It's obvious Steve has a real affection for the man.
I say to Steve, "We've talked about magic as an art and you're a little uncomfortable talking about yourself as an artist..."
"Maybe that's just me being humble."
"Maybe. But if someone was to say something about you as an artist, creator or entertainer, what would you like them to say?"
"I would like people to say that I understood that art was for the public, art was for the viewer and not for the artist. My desire has always been to entertain as many people as I possibly can before I die. I remember thinking that as a kid. I want to make millions of people happy. It was this little prayer I would say."
"A prayer?"
"Yeah. It was my little deal with God. 'Help me be successful.' I was 11 or 12, I'm stuck in this little home in Southend and I'm not going anywhere and I'm going to this school where I'm bullied a little bit and getting into a lot of fights because these kids are bullying me and my only real friends at that time were grown-up professional magicians in a magic club. I ended up having to go to a high school that was a bit rough because my grades weren't so good. We had this horrible thing called the Eleven Plus: when you're eleven you take a test and how you do on that test affects your entire future. If you do above a certain point you go to a grammar school that's at a higher level. If you don't you go to a lower level grammar school which has the horrible title of 'Secondary School'. So you're already feeling second best. And this was a very rough school where someone had been beaten up to the point where they'd been paralyzed the year before. I went to school with a knife in my pocket every day. Never had to pull it, never had to use it. Got into a lot of fights. Most of the time kids stayed away from me because I had long legs and a bad temper."

"You had a bad temper?"
"Yeah, yeah… It was all part of the bullying. I was a theater geek. When I was in junior school I was just continually being called names. It was a pretty rough childhood in that respect. So getting caught up in the magic enabled me to kind of lock myself away from that. You see, so my life was spent looking forward to the time when I could be with the adults. But I really had very few places to perform. I knew I wanted to and I knew I needed to, so I would just like say these little prayers: 'If you help me become successful, if you whisper in the ears of the right people, if you point me in the right direction, I'll work my ass off and make millions of people happy because that's really what I want to do.' It's not about anything else for me. It was always just a case of wanting to get out of that small town and do something.
"My dad died when I was 16. He'd just taken me to a magic club meeting that night and he had a heart attack. The family was in disarray after that. Eventually, I sold all my magic props to move to America. To pay for the plane ticket. And that's how great those magicians at the club were because they bought stuff from me that they didn't really need. I was going around with a box of stuff, 'What do you need? Books, props…'
"When I perform magic, when I create any kind of art, I want to affect a change in someone. If someone watches my show and they're the same at the end of it as they are at the beginning of it, then I've failed."

"Change sounds a little more substantial than just making someone happy."
"Yeah. Well, making someone happy is a form of change. The one thing I can't stand is people who don't have an opinion about my work. Have an opinion! I want to connect with you. I want to connect with your soul. Here we are on this planet in this vast universe and we're connecting. Let's affect a change. The greatest change I want is to make people happy but as an artist you can't always have that. Sometimes you have to piss people off. Gosh, I'm trying to come around to answer your initial question which was 'how do I want people to respond to me?' 'He was good.' That's all."
I suppose it's natural that a man who'd recently become a father and returned to the art of his youth would look to the past, to his artistic fathers, for inspiration. In this context, Steve Valentine's "Card to Pocket" seems to me like more than a routine made possible by new technologies opening us up magic's past – it seems like a homage to the past, to the wisdom of the street, the stage and the parlor, of the fusion of technical artistry, disarming jokes and pure charm. It seems like a homage to Dick Turpin and the other Southend Sorcerers who accepted the ten-year-old theatre geek misfit into their ranks, gave him mentorship, camaraderie and safe haven, the men who gave him his first taste of old magic books and instilled in him a respect for the past, the men who were there for Steve when his own father died, and supported him when he decided to leave them to seek fame and fortune in America. Most of all, they gave Steve a place where he felt he belonged by just being themselves, a quirky, bickering, flawed and sweet collection of men who loved magic passionately: "All these people, my people, magicians."


Go Back to Film and Magic Blog
©Chris Philpott 2010-2016. All rights reserved. Original designs and content by Kathleen Breedyk and Chris Philpott.
Contact Us .