Now Shipping
$5 flat-rate shipping worldwide for a limited time


"Absolutely brilliant!" - Banachek
The 100th Monkey is now in 12 languages: Chinese, Danish, Dutch, French, German, Hebrew, Italian, Japanese, Portuguese, Norwegian, Swedish and Spanish.*
The 100th Monkey is three effects based on a new principle. Take away someone's ability to read!
Catch the scent of a thought! Let a spectator read minds!
This multi-language version includes written instructions and gimmicked artworks in 12 languages,
2 DVDs, 11 postcards and over 500 gimmicked artworks!

*Please note: Chinese, Hebrew, Japanese and Norwegian versions have only one effect: Speechless, where you take away someone's ability to read. Also, note that the English verision of the effect is not included and English artworks are not included.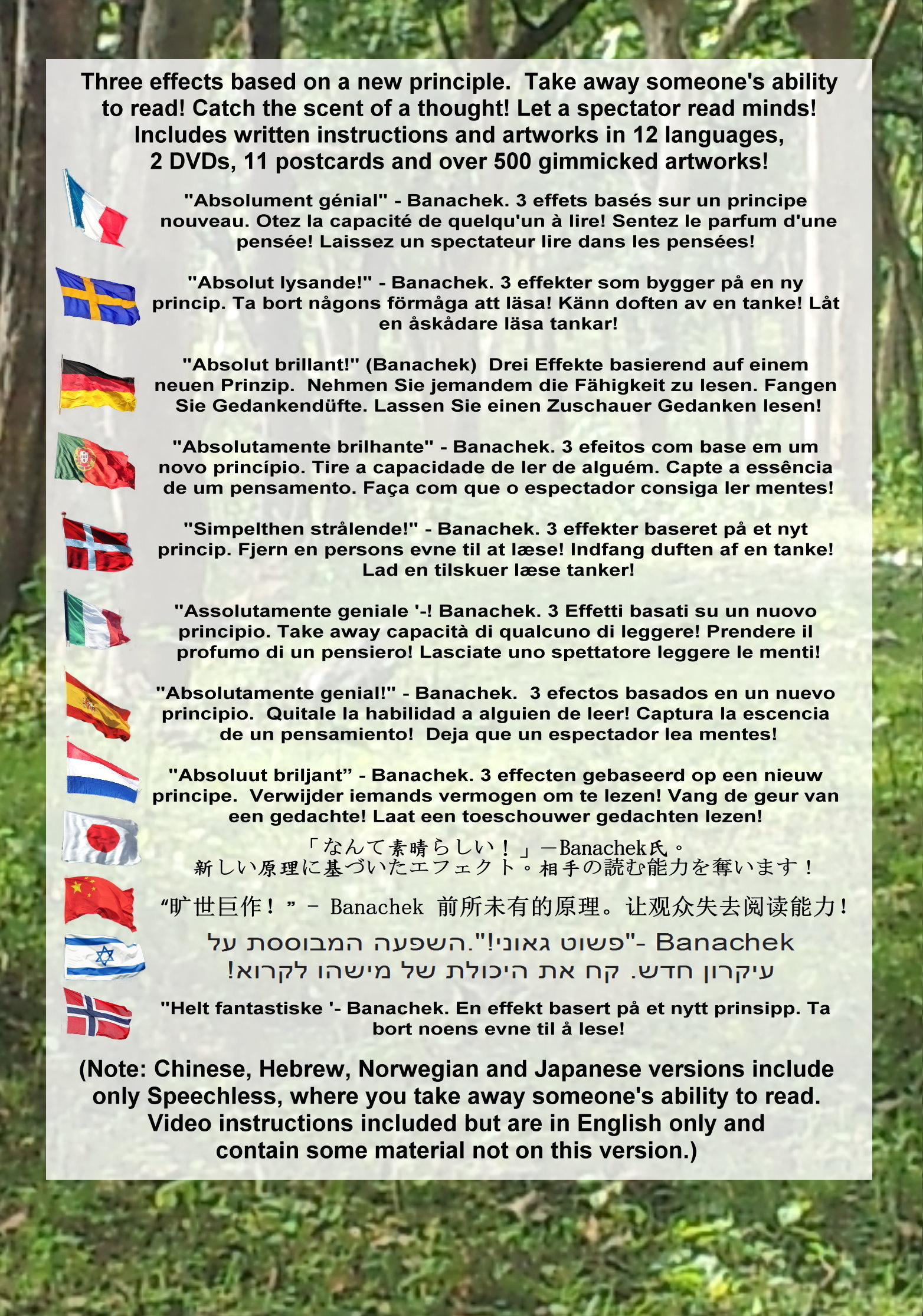 98% from Craig and 97% from Dave on Wizard Product Review. "I love this! I'll just stick this straight in my parlor show. A brand new principle!" – David Penn
"The 100th Monkey is not just a method; it's an adventure! You're going to want to run with these simian secrets."
- Max Maven
"Revolutionary ideas that soon will be the standard for all mentalists… Worthy of being seen on TV and still be believable!" - Joe Monti, National TV Producer (Criss Angel's Mindfreak)
"Utterly baffling!" - Colin McLeod
"BRILLIANT!! One of the best items we have seen this year… No hype... No BS.... Thank you for producing something that is really worth more than the asking price. WE LOVE THIS THING!!" -Paul Gross
"Ingenious... It's not often that some new and useful principle is brought to Mentalists, but Chris Philpott has done just that. Highly recommended!" -Jheff
"Excellent, top of the line stuff from a master… this is the sort of thing that other performers buy the rights to in order to keep to themselves." -Atlas Brookings
"A radically new breakthrough in the art of mentalism. The 100th Monkey is brilliant and takes dual reality to the next level, the effects are powerful and well thought out, even greater is the core technique which opens the door to endless possibilities!" -Robert J. Gould
"This is for the thinking mentalist who wants to be at the cutting edge of new ideas without using stooges or electronic gadgets. Real magic of the mind that takes advantage of how our minds work!"
- Paul Draper
"To say that I'm impressed is an understatement! This is something I will carry with me personally everywhere I go. The secondary DVD also includes a staggering amount of additional files which open up limitless possibilities for magicians, mentalists and hypnotists alike. Words simply do not do this justice."-Michael Murray
©Chris Philpott 2011-2014. All rights reserved. Original designs and content by Kathleen Breedyk and Chris Philpott. Contact Us.